About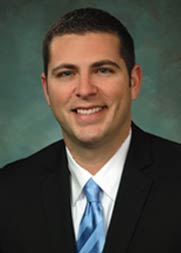 Aaron M. Fales is an attorney that can assist with your Business and/or Personal legal needs. As a child Aaron learned the value of hard work by caddying at a local golf club. After years of caddying, Aaron was awarded the Evans Scholarship providing him the opportunity to study at the University of Michigan. The Evans Scholarship rewarded Aaron for his hard work in and out of the classroom, and afforded him the opportunity for a world class education, and eventually the ability to work and study abroad. These academic and personal experiences helped forge Aaron into the thoughtful and analytical practitioner he is today and helped set the stage for his professional career.
Aaron's professional experience encompasses stints at a boutique tax and accounting firm, a big four accounting firm, and a well-respected business transaction and litigation law firm. Aaron's professional experience uniquely equips him to understand both the legal and financial implications of his client's deals, issues, and legal requirements. This perspective allows him to better deliver practical and effective solutions tailored for each of his clients.
In addition to being a licensed attorney, Aaron has an MBA in Finance, and also has significant experience in real estate appraisal and sales. This experience allows Aaron to effectively assist clients in all facets of the real estate transaction pre, and post, acquisition. Aaron has assisted in acquisitions and dispositions and leasing of various properties including residential, commercial, industrial, and retail and has provided property tax consulting and appeal services to hundreds of clients saving millions of dollars.
Aaron has become a trusted advisor and counselor to many clients and this trust has also afforded him the opportunity to assist his clients in planning for their, and their families' futures. Estate Planning is a very private and personal matter and the Law Office of Aaron M. Fales, P.C. is well equipped to handle any of your Estate Planning needs.
Professional Experience:
Edgewood Country Club
Tente Rollen GMBH
PTRG, Inc.
Deloitte
Honigman Miller Schwartz & Cohn LLP
Education
University of Michigan - BA
Walsh College - MBA
University of Detroit Mercy Law School - JD
~Licensed to practice in Michigan & the U.S. Virgin Islands
The Fales Promise
The Law Office of Aaron M. Fales, P.C. desires to provide big firm skill and expertise with small firm attention and fees. We promise to promptly respond to any and all inquiries, and our work ethic and work product will earn your respect as a trusted and competent legal advisor now and into the future. We look forward to hearing from you and hope to work with you in the future!